Ukazał się ósmy numer czasopisma Access to Justice in Eastern Europe (AJEE Journal) – 4/2020.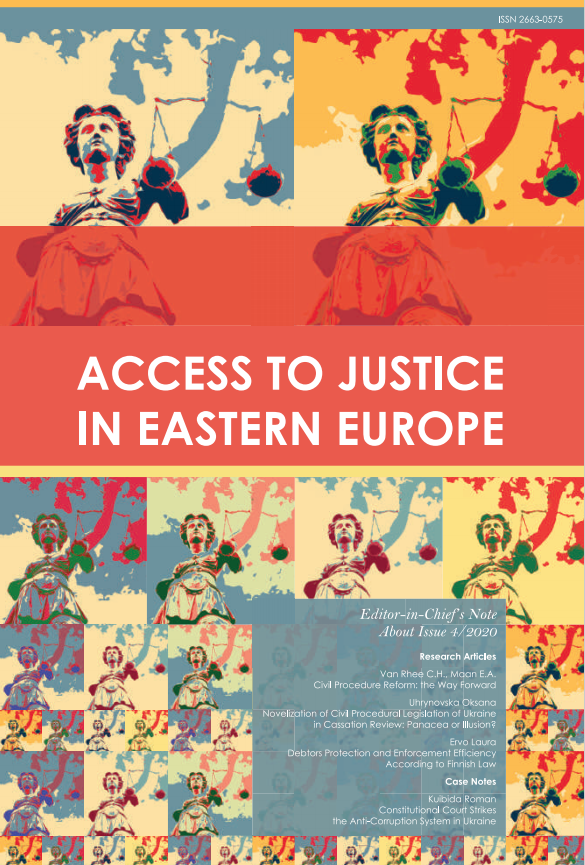 .
.
Editor-in-Chief 's Note About Issue 4/2020
Research Articles
C.H. Van Rhee, E.A. Maan, Civil Procedure Reform: the Way Forward
O. Uhrynovska, Novelization of Civil Procedural Legislation of Ukraine in Cassation Review: Panacea or Illusion?
O. Ovcharenko, T. Podorozhna, Judge Lustration in Ukraine: National Insights and European Implications
O. Kaplina, S. Fomin, Proportionality of Interference with the Right to Peaceful Enjoyment of Property During the Seizure of Property in Criminal Proceedings in Ukraine
L. Ervo, Debtors Protection and Enforcement Efficiency According to Finnish Law
Case Notes
R. Kuibida, Constitutional Court Strikes the Anti-Corruption System in Ukraine
P. Voitovych, R. Ennan, V. Voloshyna, Criminal Liability for the Infringement of IP Rights: Ukraine and the European Court of Human Rights Case Law
Reforms Forum
I. Basysta, I. Shepitko, O. Shutova, Protection and Risks of Illegal Divulgation of Banking Secrecy in Ukrainian Criminal Proceeding
.

strona AJEE: www.ajee-journal.com
kontakt: info@ajee-journal.com